Main content starts here, tab to start navigating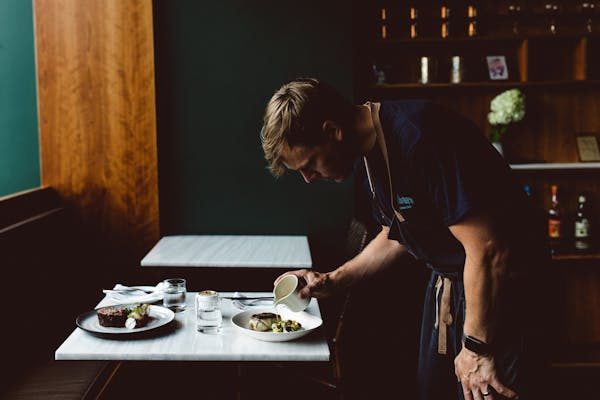 Brian Miller
Chef De Cuisine
The newest addition to the Fat Hen culinary team, chef Brian Miller has been appointed Chef de Cuisine for the gorgeous 30 seat restaurant. Fat Hen is a modern Italian tasting menu inspired restaurant in East Somerville. They pride themselves in sourcing local products and utilizing 100% of everything across the entire menu.
Brian has worked amongst some extraordinary talents along the East Coast and made a point of working with James Beard candidates and winners to set the standards for his style and work ethic.
Originally from Massachusetts, Brian took the time to work for some of South Florida's most notable chefs to lay the foundation for his cuisine while attending Le Cordon Bleu in Miami. Chefs Jeremy Ford, James Beard Rising Star candidate, and Dean James Max, James Beard Best Chef Nominee, King of American Seafood winner and restaurateur of twelve different restaurant concepts, were Brian's original mentors.
After four years in the Sunshine State, Brian returned to Boston to work under the guidance of the chefs at Sorellina. He gained experience with refined Italian fare to go along with skills in traditional French and his style was set. He continued to follow those two cuisines to strengthen his palate and technique, ultimately landing a position at Barbara Lynch's AAA Five Diamond, Relais & Châteaux property, Menton.
After learning an enourmous amount from Menton's incredibly talented culinary team he took the Executive Sous Chef position at Cinquecento with Justin Winters, with whom he worked for at Sorellina. After helping open the doors and two years at 500 Harrison Ave, he decided to return to his roots in contemporary French at Brasserie 28 where he took over the patisserie department.
When Brasserie closed to reopen with a new concept he accepted the Executive Chef position at Hops Test Kitchen in Inman Square in Cambridge. Hops was a great platform to experiment and use his creativity to develop constantly changing seasonal menus and establish a chefs whim tastings option. When HTK decided to close the doors in 2017 it was time to take on a bigger challenge on a bigger stage, Fat Hen.